Looking for power, accuracy, and accessibility, all in one lightweight package? If so, the M95 is the perfect gun for you.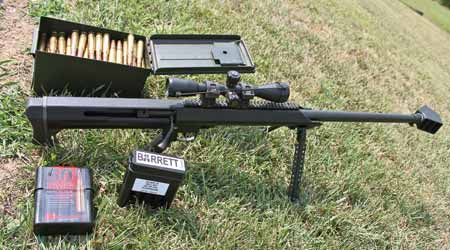 This 50 caliber bolt action rifle packs a hell of a lot of punch in one compact package. At an overall length of 45 inches, it is perfect for military use in any combat situation. Its front bipod and rear monopod provide an easily adjustable setup that make it as user friendly as possible. The magazine fed "bullpup" system lets the shooter fire off 5 rounds effortlessly, reload, and get right back on target.
The accuracy of this rifle owes to its innovative bolt action system, making it capable of a range of 1,800 meters at 2,800 feet per second. Barrett's designers were unwilling to sacrifice speed, safety, and reliability with its design, modifying the bolt system for optimal feed, locking, and longevity. Dual firing pin springs provide consistency and speed, making the entire system quick and effortless.
The best thing about this gun, unlike many that we review for our monthly featured firearms, is that these can be purchased by CIVILIANS (without criminal backgrounds or mental health histories, of course). At a completely affordable price of around $7,000, you can own a high power, high accuracy firearm of your very own! And as fun as this badass gun is to shoot, you don't want to miss out!
Photo Credits:
http://weaponsystems.net/weaponsystem/AA05%20-%20M95.html
Video Credit:
https://www.youtube.com/watch?v=mSeIBrNGJrQ