The M1918 BAR (Browning Automatic Rifle) was developed during World War I in response to the impracticality of using bolt action rifles in the harsh environment of trench warfare. This selective fire rifle fires from an open bolt which acts as the striker, with a spring powered cartridge. The gas operated system reduces recoil, allowing for ease of firing when utilizing higher caliber rounds.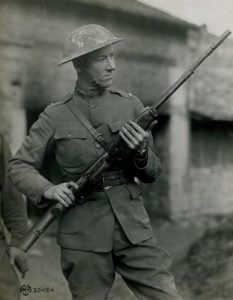 Fed from a 20 round box magazine, the M1918 was not ideal for use as an automatic weapon, and was continuously redesigned and evolved over the years.  It was widely used by the American military in World War II, primarily serving as a support light machine gun mounted on a bipod. It was also used in the Korean War, and in the early years of the conflict in Vietnam, before the U.S. military
Today, the BAR is a reputable hunting rifle whose accuracy matches that of a bolt action, but offers the firing rate of an autoloading, semi-automatic rifle. Redesigned by Browning in 2004, the BAR is now available in 12 variations in nine different calibers. Current magazine capacity for newer models varies between 2-4 rounds, depending upon the caliber. The BOSS system, available in the Safari model, stands for Ballistic Optimizing Shooting System, an innovative system that contributes greatly to the overall accuracy of the rifle.
Current BAR Models Available Include:
BAR Mark III – Caliber: 243 Win/300 Win Mag

BAR Mark II Safari – Caliber: 25-06 Rem

BAR Mark II Safari with BOSS – Caliber: 270 Win

BAR MK 3 Mossy Oak Break-Up Country – Caliber: 243 Win

 BAR MK 3 Stalker – Caliber: 243 Win

With an average MSRP of around $1,000, these top quality, high accuracy rifles are well worth the moderate investment.
  Credits: www.browning.com