There is a brotherhood that exists between firefighters and emergency responders that many of us will never understand. Theirs is a bond that spans years, that is filled with experiences both uplifting and disheartening, that unites them in a common understanding and empathy much like military service. In fact, there are many police officers, firefighters, and EMTs, who served in the military prior to their career as a first responder. Some even continue to serve in both sectors, a show of dedication and patriotism that is truly awe-inspiring.
You may not know the name Chris Engeldrum, but you should. The namesake of VFW Post 12033 in New York City, Engeldrum served his country time and again during his short time here on Earth. He enlisted in the Army in 1986 and served for 5 years, deploying in support of Operation Desert Storm in 1990 with the 82nd Airborne Division. After his service, he joined the New York City Police Department as a police officer, then transitioned to the New York City Fire Department in 1999. When the World Trade Center was attacked in 2001, Engeldrum and the rest of Ladder Company 61 responded to rescue those trapped in the rubble and debris. When his National Guard regiment was activated as part of operation Iraqi Freedom, Engeldrum again heeded the call. This proved to be his final act of heroism. Christian Philip Engeldrum made the Ultimate Sacrifice on November 29, 2004, when his convoy was attacked outside of Baghdad.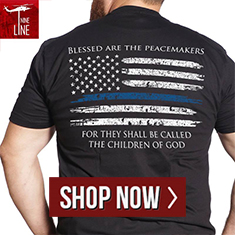 Because of his incredible patriotism, love of country, and devotion to his city, FDNY VFW Post 12033 has dubbed him the namesake of their organization. Comprised primarily of NYC Firefighters and EMTs, the post is currently setting up a scholarship fund in Engeldrum's name as well.
"We want to keep Chris's name alive, and honor him with this scholarship," said Billy Hayes, a representative and Nine Line's contact with the VFW post. Their goal is to raise 10 years' worth of funds before launching the fund, to insure that it will not be a "one and done," as Hayes put it. The goal is to sponsor one boy and one girl each year, whose parents are active or retired firefighters, and active or veteran military service members.  "The goal is to give them $500 each per year, to help pay for books and supplies," Hayes explains. They have currently saved $5,000 so far, and hope to raise funds through the collaboration with Nine Line Apparel from the sales of the FDNY fundraising shirt.
Nine Line is excited to partner with FDNY VFW Post 12033 to raise funds for this cause. We do our best to be our brother's keeper, and we humbly ask for your support.
To learn more about FDNY VFW Post 12033, visit: http://www.fdnyvfw.com/home.html