It's a tough job, keeping others safe. For those who volunteer to put themselves between trouble and the innocent, sometimes things go wrong. Sometimes the good guys don't win. And evil never sleeps.
This might seem a bit of a drab subject to bring up over the holidays, but unfortunately, all too often those who are responsible for our safety, security and health give up of themselves to ensure the rest of us can spend a cozy holiday with family. Whether it's serving in the military, police and fire departments, EMTs and the rest. They are the reason that we can celebrate without care.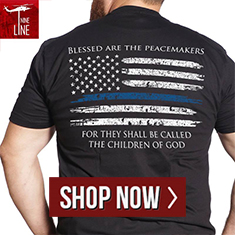 Gone…But Not Forgotten
Ashley Sistrunk is a young mother with four children and a deployed husband. As Christmas time approached, she started getting down when thinking about how her family would make it through the holidays without him.
Then, she started looking around online. When she searched on Pinterest for "military Christmas ideas," she saw one that snatched her attention outright. Ultimately, she realized that what she wanted — at the barest minimum — was a picture of her family together for the holidays. And that's when it dawned on her: she could absolutely have a picture with her whole family (it's 2016, right?).
So with that, she got to work and shared the idea with her husband, Brandon. He was on board, but surprisingly, she had to do some convincing with her kids. "They thought it was nuts. At first they thought it was silly and didn't want to take the picture," Ashley said.
But after some convincing and a few rounds of images from Brandon, Ashley was finally able to make the perfect Christmas card photo — or, at least, the best one that she could put together under the circumstances.
It's nothing new, military spouses have been dealing with missing their other half for birthdays and holidays. But with technology the way it is, at least for this Christmas, they can be together again, if only in their pictures.
Home — But Not "Home"
So what about the first responders who live in the US? Whereas it might be a little bit more comforting for family to be able to see their first responder over the holidays, many still have to work on the holidays themselves.
People still need security, as Christmas can be seen by some criminals as an opportunity to get away with nefarious deeds with fewer people around to catch them. Furthermore, accidents still happen.
Every year at Thanksgiving and Christmas, families all over make wonderful and elaborate meals to celebrate with their friends and families. But sometimes, they don't always think things through. As at-home deep fryers became more popular, people started deep frying whole turkeys for the holiday. Unfortunately, several of these families did not know about the need to let the turkey thaw completely before immersing it in 400 degree oil. (For those who aren't aware, this results in a huge explosion.)
Ultimately, it's the firefighters who have to put out the flames, and EMTs who have to get victims to the hospital. This also goes for car crashes and other fairly regular incidents where people need emergency services.
Yes, it's these people who selflessly put you and me front and center. They do it for us, so if you happen to be out on or around Christmas, you might try saying a kind "thank you" to these brave men and women for the services they provide. You never know when it will be you that needs a police officer or firefighter on Christmas Day!
So from the entire staff at Nine Line to all of our military, police, firefighters, EMTs and all other first responders, we just wanted to say THANK YOU for what you do. We will never take what you do for granted.