We are proud to introduce this EOD inspired fundraiser design in collaboration with the EOD Warrior Foundation. Proceeds will be donated to the foundation during the 2019 EOD Memorial Weekend beginning Friday, May 3rd. The donation will be presented by the very artist who created the design, Taylour Maggart, who is the spouse of an EOD Tech herself.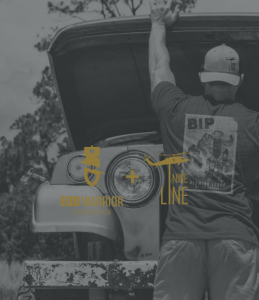 The EOD Warrior Foundation (EODWF) serves the EOD community by providing assistance and support to active-duty and veteran EOD Warriors and their families during times of crisis and hardship, to include injury, illness, or death. The foundation also maintains the EOD Memorial at Eglin Air Force Base in Florida. Every year, on the first Saturday in May, the EOD Memorial Ceremony is held to commemorate fallen EOD technicians to recognize and preserve the legacy of the service and sacrifices of our fallen warriors and their families.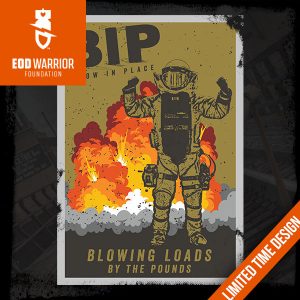 EOD stands for Explosive Ordnance Disposal, the disarming and disposal of bombs. In the explosive ordinance world, "BIP" is a common phrase or terminology to explain when it is deemed necessary that ordinance found is not able to be disarmed or moved.
Playing off this phrase, the design was made to appeal to the humorous side of EOD techs who love blowing loads by the pound. While humorous, we also wish to honor these brave warriors and the sacrifices they make to defend freedom, brotherhood, and protect the innocent.
Follow the link to find this design and support the EOD Warrior Foundation: https://www.ninelineapparel.com/collections/bip-blow-in-place
Nine Line is an American Clothing Company with American made Apparel and Accessories- Veteran Owned and Operated.