Nine Line Apparel is excited to partner with the American Heroes Channel for Duty, Honor, Courage, a 3-night event culminating on Veterans Day, November 11, 2016. The goal of the collaboration is to raise awareness for Veterans Day and to encourage support of our nation's military and veterans.
AHC salutes our nation's veterans with DUTY, HONOR, COURAGE, a special three-night event dedicated to the men and women of our Armed Forces.   Starting Wednesday, November 9 at 8/7c, and continuing nightly through Friday, November 11,  DUTY, HONOR, COURAGE  features some of the network's most patriotic programming and specially themed episodes of AHC's hit shows, including, D-DAY TO VICTORY; WORLD WAR II IN COLOR; COLD WAR ARMAGEDDON; and the premiere of the all-new special, THE BATTLE I'LL NEVER FORGET. 
Complete details of the DUTY, HONOR, COURAGE programming line-up are as follows:
WEDNESDAY, NOVEMBER 9
COLD WAR ARMAGEDDON Encores air from 8-10 PM ET. New episode premieres at 10 PM ET
The Cold War – an era when nuclear weapons kept the entire world on edge, as political and military tensions simmered among global super powers. With great change on the horizon, the world watched as Russia, China and the United States flexed their military muscles on the global stage, each one determined to reshape the world in their own image. COLD WAR ARMAGEDDON transports viewers back forty years as the horrors of World War II ended, and a new kind of war began. When the push of a single button could trigger mass destruction, COLD WAR ARMAGEDDON examines how the world was changed forever in one of the greatest power struggles in history.
 THURSDAY, NOVEMBER 10
D-DAY TO VICTORY Encores air from 8-11 PM ET
D-DAY TO VICTORY painstakingly chronicles the final years of the Allied campaign in the Second World War and reveals what it was really like in the trenches on Omaha Beach. Using previously unseen archival footage, moving first-person testimony, and battlefield recreations, this gripping new series doesn't just vividly portray the iconic battles of World War II, it tells an epic story—on an epic scale.
FRIDAY, NOVEMBER 11
WORLD WAR II IN COLOR encores from 8-10 PM ET
A new collection of rare and unseen footage of World War II and the very latest colorization techniques come together in World War II in Color. With satellite-delivered terrain mapping and state-of-the-art graphics, this new series reveals the epic conflict of the 20th century in a fresh light. Newly divulged documents, files and photographs, code breaking revelations, and recently released government papers on both sides of the Atlantic add a different dimension to our understanding of the strategies and battles of World War II.
THE BATTLE I'LL NEVER FORGET premieres at 10 PM ET
In the one-hour special, THE BATTLE I'LL NEVER FORGET, AHC brings back to life some of the most critical battles in American warfare history, told by soldiers who lived to tell the harrowing tales of the brave men and women who fought on the ground, in the sky, and on the seas.
The collaboration between AHC and Nine Line Apparel will extend from October 18, 2016 through November 15, 2016. During this time, Nine Line will be printing and selling a collaborative Duty, Honor, Courage design on their website.
In addition to the collaborative shirt design, Nine Line and American Heroes Channel will be promoting a Hero Bundle Giveaway. The Giveaway Sweepstakes will be held from November 7, 2016 through November 13, 2016. The winner will be entitled to a Duty, Honor, Courage T-shirt, an American Wooden Flag box sign, a Pledge of Allegiance car decal, an American Made Mesh Back hat, and a Nine Line Tanker. The Hero Bundle will also be available for purchase on Nine Line's website during that time.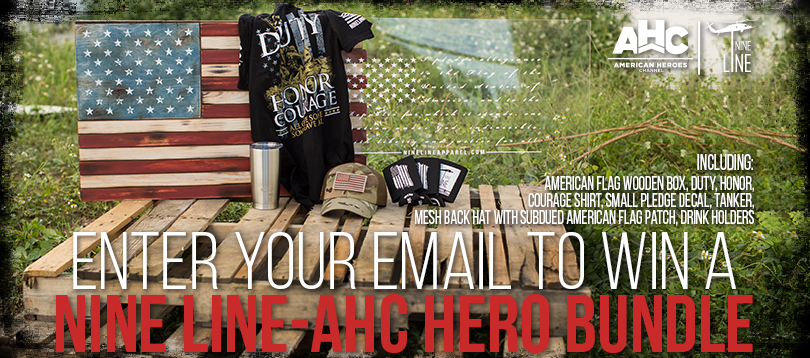 Both Nine Line Apparel and the American Heroes Channel are excited to partner for this amazing network event. To learn more about this collaboration, please visit: www.ninelineapparel.com/duty-honor-courage