Officer Chad Baker began his law enforcement career a little over 5 years ago, in the small town of Harrodsburg, Kentucky where he is still employed today. He is a small town cop with a big mission to bridge the gap between civilians and officers through humor and real life experiences shared with the general public through social media. He was born and raised in Danville, Kentucky. On June 30th, 2018 Officer Baker married his wife, Hilary, and they now have three sons named Jaxon, Jake, and Taylor.
When Chad spoke on the topic of becoming an officer he said "I'm often asked, "Why did you choose to be an officer"? And it's quite simple for me; I've always had a passion for helping those unable to help themselves, as they are the most vulnerable. I did ride alongs with my local police department throughout high school, and that really sparked my fire for law enforcement. Also, by completing those ride longs, it made me realize it was the career path I wanted to take."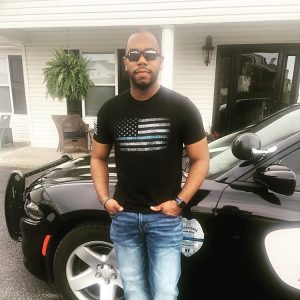 Officer Baker's father was a Navy veteran, so he understands the sacrifice that our veterans have to make so that we can have the opportunities that we have today. Because of that, he has the utmost respect for the men and women who protect and serve this great country. He wholeheartedly believes that this is the greatest country in the world, and he just wants to do his part to make it a better place for his kids and generations after that.
Officer Baker has become an internet sensation for his humorous videos on social media where he shares the funnier side of what police officers see when they are on patrol. His videos are meant to humanize the badge, bridging the gap between LEO's and the civilians they serve to protect. Officer Baker hopes to show that police officers laugh and cry just like everyone else and even though they have to be serious when they are out on the streets, they like to have a good time as well. He has said that the following he has amassed on social media is really humbling because he had no idea it was going to grow as quickly as it has. He hopes that his videos and content will encourage people to approach police officers no matter what the reason is, even if it is just to stop and talk.
Nine Line is proud to join Officer Baker in his mission to bridge the gap between civilians and LEOs, and offer a full line of designs in collaboration in our ongoing partnership. Officer Baker's collection features four LEO inspired designs including his new Limited Time Design, "Use It!" Click HERE to see all of Officer Baker's designs today!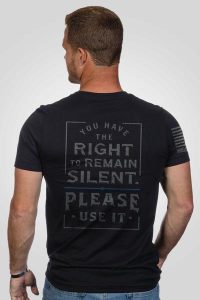 Officer Baker's design reminds bad guys that they do have a right to remain silent and asks them to please use it…because LEOs don't want to hear their excuses. Save it for the Judge!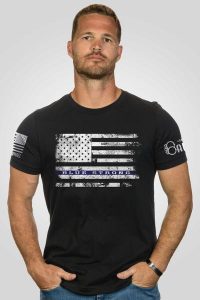 As a police officer, seeing crime and negativity is an every day occurrence – Ofc Baker has set out to bring a positive light to the public by humanizing the badge and showing everyone that he is a normal guy that just cares about his community. He bridges the gap between the police and the people through humor and real life experiences shared with the general public through social media.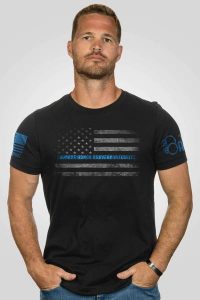 Courage, Honor, Bravery, Integrity
Support Officer Baker, all men and women of our U.S. Police Force and grab this incredible Thin Blue Line design before it's gone. Courage, honor, bravery, integrity – the BEST way to describe America's selfless LEOs!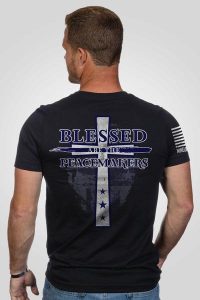 Check out our exclusive new collaborative design, "Blessed Are The Peacemakers" recognizing the selfless efforts of our nation's Thin Blue Line & show your support!
Nine Line is an American Clothing Company with American made Apparel and Accessories- Veteran Owned and Operated