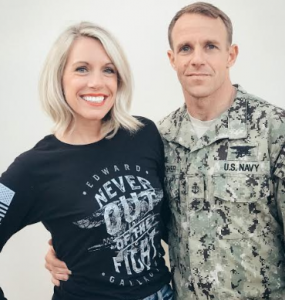 The battle rages on – and the trial hasn't even begun. As we continue our fight for the rights and freedom of Chief Edward Gallagher, we are proud to have gained momentum in our pursuit of justice for this decorated veteran of the United States Navy. However, with the pending trial start date of May 28th looming on the horizon, Chief Gallagher is incessantly being restricted from adequate legal preparation, as he builds a case against corruption and lies.
Last week, I was fortunate enough to join Chief Gallagher's wife, Andrea, on Fox and Friends, as we continue to try and bring the injustices he is facing to the American public.  He continues to be kept under conditions that are completely contradictory to the order issued by President Trump, our Commander in Chief. He is being confined on a military base, away from his family, away from his attorneys, without access to a phone, laptop, gym, or meals other than the processed food sold in a convenience store on post. These restrictions are obstructing Eddie's ability to build a proper case with his legal counsel, and the truths of Gallagher's incarceration are deliberately being withheld from the President by the officer in charge of Chief Gallagher's confinement.
Though we at Nine Line Apparel have been able to raise over $90,000 for Chief Gallagher's family, this is but a drop in the bucket of the debt that they are incurring as a result of his charges. Gallagher's family has spent almost half a million dollars during the course of his imprisonment between legal fees and travel in support of his case. His wife and children have already endured his dozen deployments in service to our nation, yet they continue to be patronized, judged, and shamed in the eyes of the media.
Bottom Line, Up Front – Chief Edward Gallagher is a patriot who has served his country, a man who put his life on the line again and again. His is a father, a husband, a son. He is an American citizen, innocent until proven guilty, and he should be treated as such.
CLICK HERE to read the full articles and follow Eddie Gallagher's story.
Nine Line is an American Clothing Company with American made Apparel and Accessories- Veteran Owned and Operated.